You probably know that home-accessories are one of the most important elements in any interior, especially when it comes to our living room decoration – as this is the place where we spend most of our free time.
I admit – I love to hang out in my living room. It's my place to host friends with wine and good music, to spend time with my family, to lay down on weekends (and do nothing, hopefully) or just watch TV… so naturally, the coffee table is a central decoration piece in my interior, and a busy one. I always "play" with the styling of the coffee table just for the sake of change – replace the accessories, the plants, change the colors a bit, add a Bazaar Velvet rug under it to make it stand out more – you will be surprised how different it can make the room look.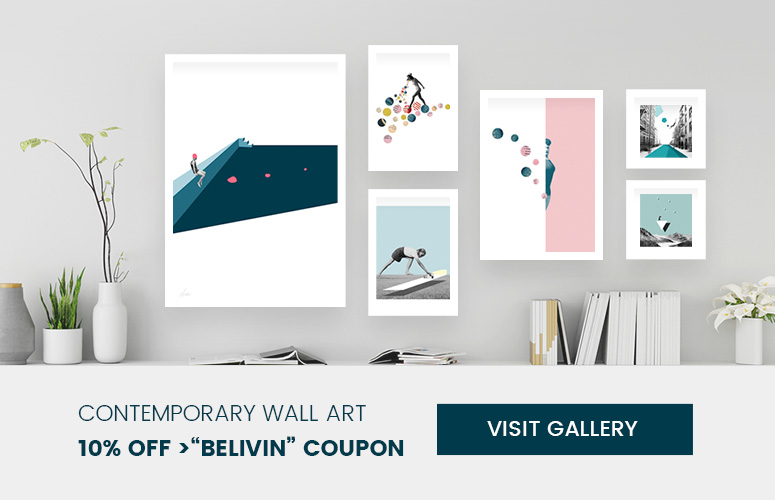 Did you know that when you enter a living room, the two main pieces of furniture that attract the most attention are the coffee table and the sofa? The coffee table often becomes the centerpiece of the entire room due to its central position (especially in smaller places) which is exactly why it's so important to take the time and effort and decorate it. The home accessories that you will put on your coffee table can truly make the difference between a pale, flat table and an "out of a magazine" one.
So if your coffee table has been taken over by newspapers, coffee mugs or remotes (sounds familiar??), this is the time for a styling makeover! with these amazing living room coffee table decor ideas, styling tips & DIY's that I gathered for you, you'll see that styling your living room coffee table is really a no-brainer! Once your coffee table is styled, you need to make sure that your coffe making skils are just as great! There are many tips by The Full Moon Cafe that will help your coffee game be as desirable as your living room!
Romantic & Cozy Coffee Table Decor Ideas
This decorating style works great with wooden tables and a calm, relaxed color palette.
Tip #1: Use candles and candle holders of several shapes and sizes.
Tip #2: Add a small one-color flower arrangement (always prefer white)
Tip #3: Place a tray to group all the accessories together – it is a great design element.
Tip #4: A table full of decorations would give the entire space a cozy and romantic look.
Nordic Coffee Table Decor Ideas
The Nordic styling features modern coffee tables and a clean, minimalist look.
Tip #1: keep the coffee table uncluttered with 3-6 modern accessories only.
Tip #2: limit the color scheme of the table and accessories to black & white, grey and wood
Tip #3: add a touch of nature to the table with flowers, succulents or any green plants- it adds so much life to the room!
Tip #4: Pile some pretty books in bright colored covers and bold lettering as a base for decorating elements.
Gold Accent Coffee Table Decor Ideas
Decorating with gold home accessories add a lot of chic and will work wonders to the living room.
Tip #1: Coffee tables with gold legs and a white/marble/Glass top are perfect for this type of styling.
Tip #2: keep it simple: choose 1-3 impressive gold accessories and the rest should be varied.
Tip #3: Thin candles and colorful fresh flowers will be an amazing addition to this classy table.
Colorful Boho-Chic Coffee Table Decor
Adding colors, textures and patterns to the coffee table adds a cheerful look to the entire space!
Tip #1: The colorful chic can be created by the table itself or from the decorations you place on it. Don't do both.
Tip #2: Use repeated colors to make the coffee table decor more cohesive.
Tip #3: Use bold and noticable plants
Tip #4: Mix and match – the bohemian decor is eclectic and free-spirit!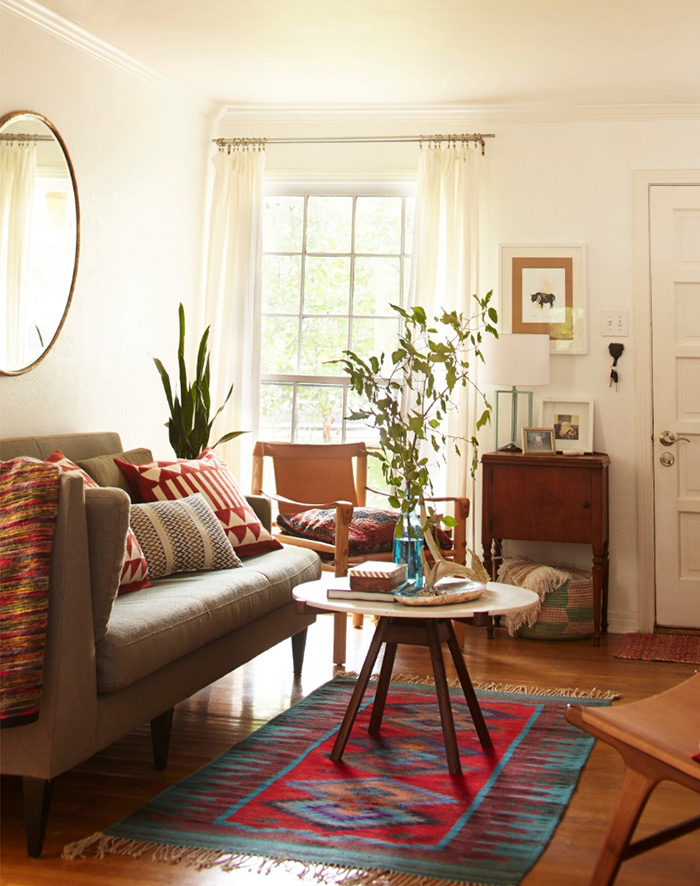 Photo: Apartmenttherapy
Rustic Coffee Table Decor With An Industrial Touch
This amazing look goes best with the combination of wood and metal.
Tip #1: Metal and wood coffee table with clean lines would be the perfect base for this styling.
Tip #2: Use metal/ iron decor elements to add an industrial modern look.
Tip #3: Add add green plants to bring the farmhouse sense inside.
Tip #4: Use books as a colorful decorating element- it gives the space character and chic!
Urban Modern Coffee Table Decor
The urban styling is all about modern simplicity and street style decoration elements.
Tip #1: In general, greyish and greenish tones are the basis of an urban coffee table styling.
Tip #2: Use concrete planters, vases and other accessories to bring the street vibe in.
Tip #3: Add green minimalist home plants such as succulents to stay well balanced with nature outside.
Tip #4: Vary the accessories heights to create a chic and interesting look
Copper Accessories Coffee Table Decor
Copper is a very trendy metal in the home decor world for the last couple of years – and for a good reason!
Tip #1: copper accessories look amazing on all coffee table types: wood, glass, white, cooper (!) and more
Tip #2: combine the copper elements with something white- it will immediately light up the table
Tip #3: copper is a great material for candle holders, vases, bowls and trays.
Natural Look Coffee Table Decor
For those who love their living room coffee table chic but still close to nature
Tip #1: This styling type would obviously look best with a table made of natural materials
Tip #2: Use natural materials to decorate the table- plants, stone, wood or even corals.
Tip #3: Embrace the nature color palette with shades of brown, sand, green and beige.
DIY Coffee Table Decor Ideas – Style It Yourself!
After all the inspiration, ideas and tips we showed you, we're pretty sure you know the basics for decorating a perfectly beautiful coffee table all by yourself. You don't have to spend a lot of money in order to decorate your coffee table and make it the centerpiece of your living room. Here are 5 easy ideas for DIY coffee table decor:
Use empty glass bottles:
You can use empty bottles and decorate them with fresh flowers or plants. The result is amazing!
Use glass jars to create candle holders
Add pebbles, fabric or twigs for a romantic ambiance candle lights.
Take old trays and turn them into super chic ones
Make your own Planters with DIY ideas
Or Just… Washi Tape it!
Washi Tape is such a great solution for any DIY project and immediately adds style, color and chic.