Picture ledge is one of my favorite choices for displaying wall art.
It is the "magic touch" that enables you to display a collection of art or photos that are different in style and framing but somehow work just great together.
The best thing about it is that you don't really need to be a design expert to make it right…
The "messy" look is the secret to success.
Featured images: top-"M.F. V. xii" by Nikola Nupra, bottom left- "News from afar" by Ruben Ireland, bottom right-"M.D.C.N. xxi" by Nikola Nupra
I also like the fact that while in the "traditional" way of hanging pictures on a wall, you need to arrange and locate every frame in advance, here you can re-arrange and replace them with no hassle and without the need to punch new holes in your wall … perfect!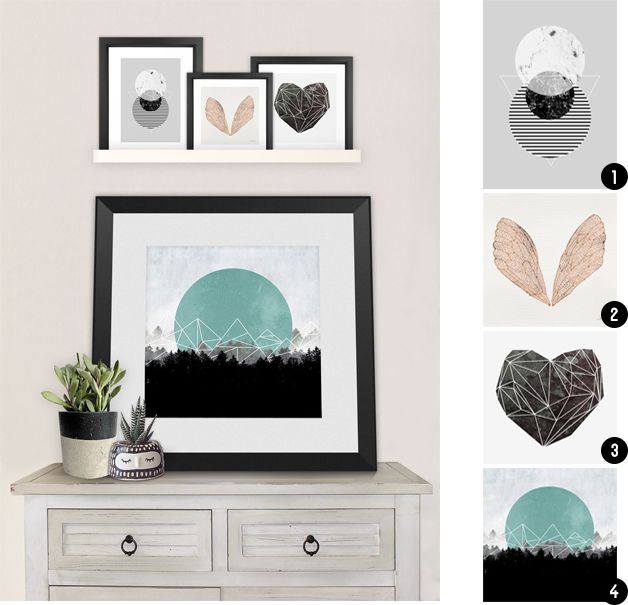 Helpful tips to create a perfect gallery wall with shelves:
Use a variety of frames in different styles and sizes to give it the "casual" look that makes it so pretty.
Mix color tones – black, white, wood and silver for the Scandinavian look, touches of color for a more "vivid" display.
When choosing the displaying pictures, combine art styles: photos, illustrations, typography, modern or traditonal art.
Experiment: simply add or remove frames and pictures until you get the perfect combination for your gallery wall with shelves.
More From Nikola Nupra:

More From Ruben Ireland: