It seems like the marble trend in home decor isn't going away anytime soon and I love it! White marble accents make a strong modern statement and deliver a sense of luxury and glam to any room. When you combine it with the rose gold and copper elements or the succulents which I love and are also very trendy now, the result is a classy yet chic and updated interior – any reason to make this trend disappear soon?!
Real marble accents can often be quite pricey so I gathered some amazing DIY easy projects to prove that you can create the "marble look" on a budget and still easily elevate your space. The idea of DIY is great when it is done right. If you are someone who is quite handy when it comes to projects like these, it may be best for you to keep your essential tools in a safe place ready for when you're going to be needing them next. Check out a site like https://choosetoolbox.com to find the right storage for your tools. You may be needing them even sooner than you think after seeing these DIY trends.
Read on for all the details!
DIY MARBLE TABLES
So as we already know, marble tables are incredibly chic but usually quite expensive. If you are dreaming of a marble dining table, coffee table or a home office table without emptying your bank account you can simply use contact paper and complete the makeover!
Here are 2 quick and affordable DIY tutorials which will make your dream come true in no time: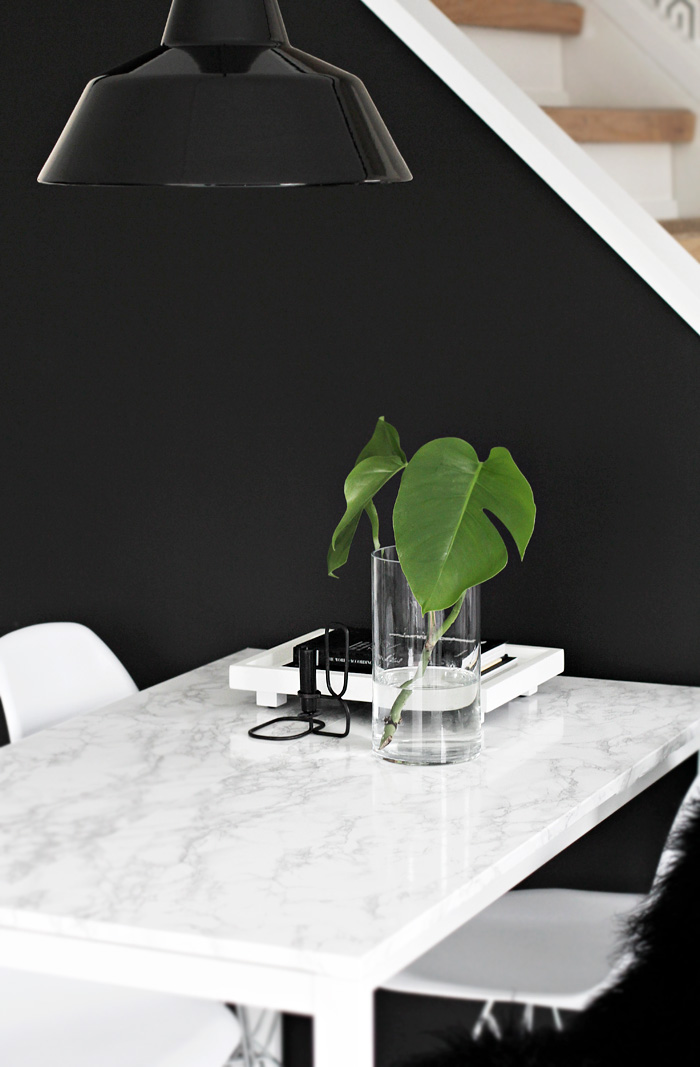 Marble tables are incredibly chic, but usually quite expensive. Don't give up on this trendy look and check this DIY Marble dining table tutorial I found on Stylizmo which is easy, beautiful and on a budget – using contact paper! This tutorial works for coffee tables, side table and home office tables so go ahead and try it!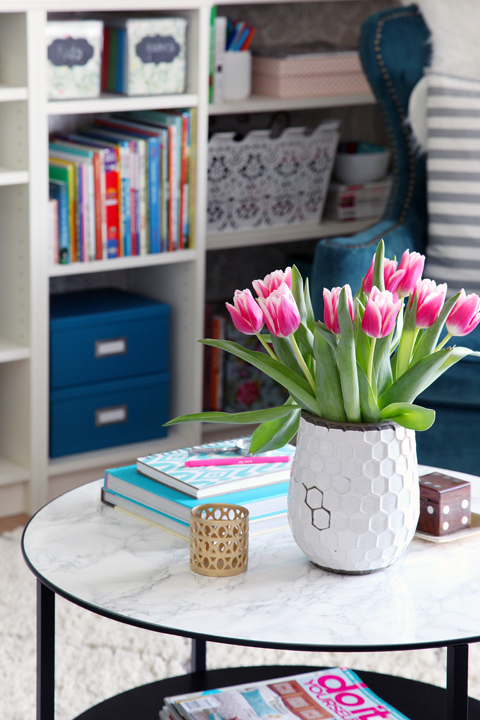 Your coffee table is starting to look boring? If it has a glass top then you can easily give it a makeover. Simply adhere marble contact paper onto the glass top and cut it to size. Then put the top back and the project is complete – you'll have a trendy and hot faux marble top table! check out the full tutorial by Homedit
DIY MARBLE TRAYS
I love trays and use them all around the house- as a base for my coffee table decor elements, for my jewelry, perfumes or just for drinks and servings. There are a lot of marble trays tutorials online so I picked 3 of my very favorite ones: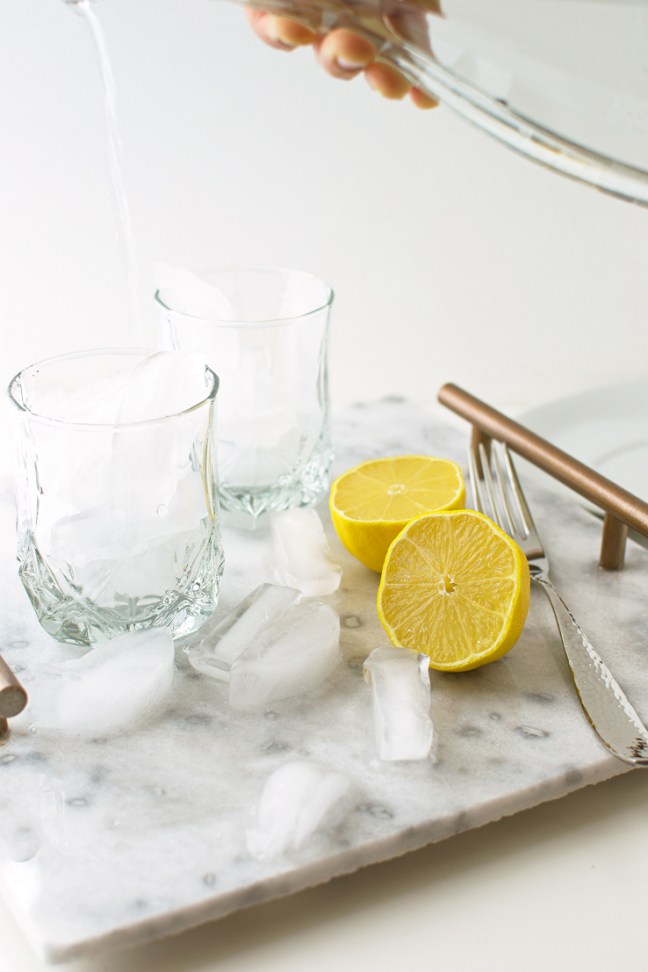 This gorgeous modern DIY Marble Tray by Pennies for a Fortune is a great inexpensive solution for all these expensive marble trays you see in the stores. It is a simple yet elegant tray which can be used as a vanity tray, fancy cheese board, serving platter, office desk organizer and so much more. Check out this quick and easy, budget-friendly tutorial!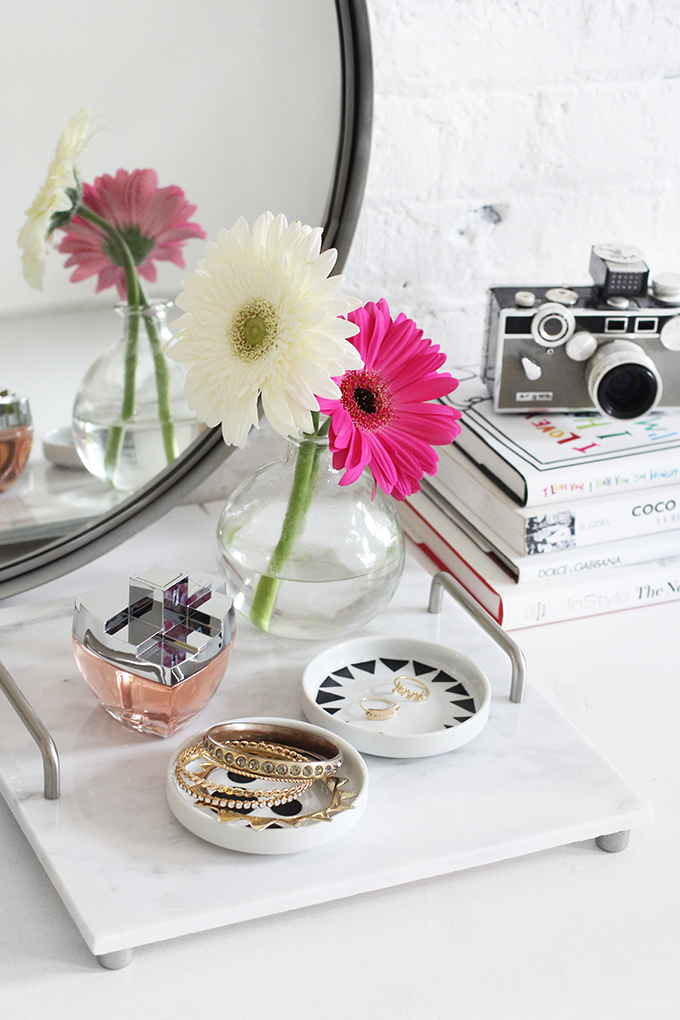 Another beautiful Marble tray I love is from I Spy DIY, featuring silver handles and plugs which add a lot of chic! This vanity tray is a perfect place to hold your everyday jewelry and current scent in one place, but can obviously be used for many other purposes. Just to let you know that the total for all the supplies is around $10!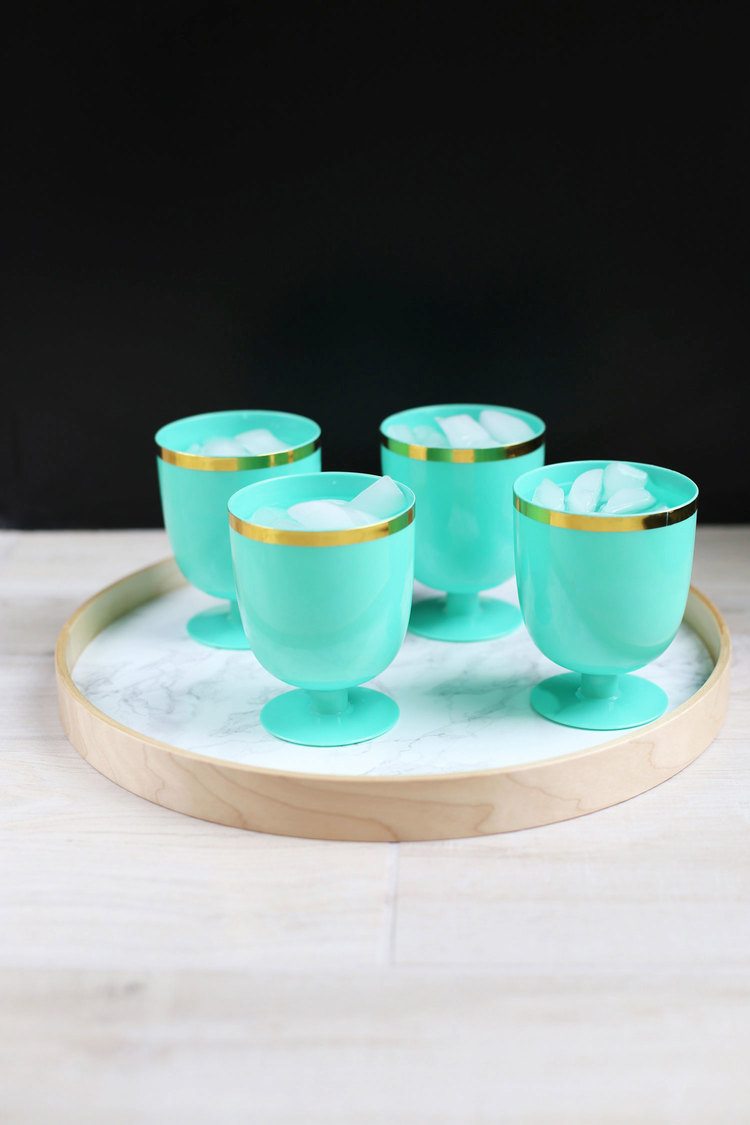 This DIY wooden-marble tray by Kristy Murphy will impress your guests at your next cocktail party while the only materials you would need are marble contact paper, a simple wooden tray and a pair of scissors! This is a well designed solution for a great looking and inexpensive serving tray which can also be perfect for your side or coffee table.
DIY MARBLE HEXAGON COASTERS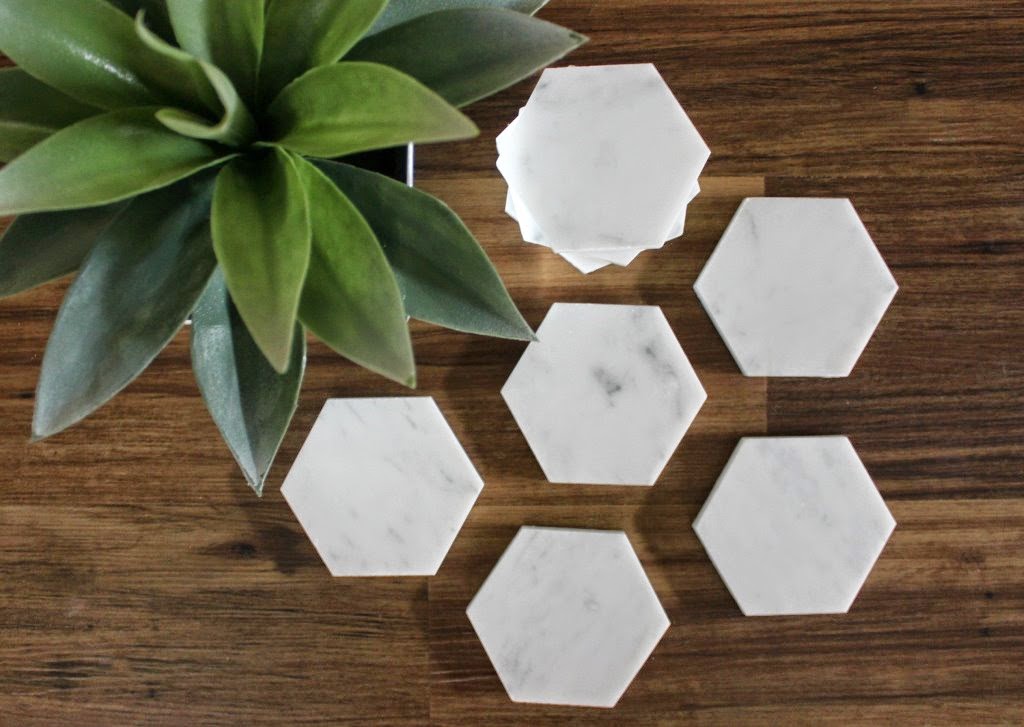 All you need for these beautiful coasters is a Sheet of Hexagon Tiles, a Sheet of Adhesive Felt and Scissors! Check out this quick and easy tutorial by Lime & Mortar
MARBLE AND COPPER STATIONARY
Marble and copper are two big trends we've all been loving lately. In this beautiful DIY project by the lovely drawer they are packaged real nicely into one book and some matching geometric paper clips. Be careful, it's addictive!
DIY MARBLE POT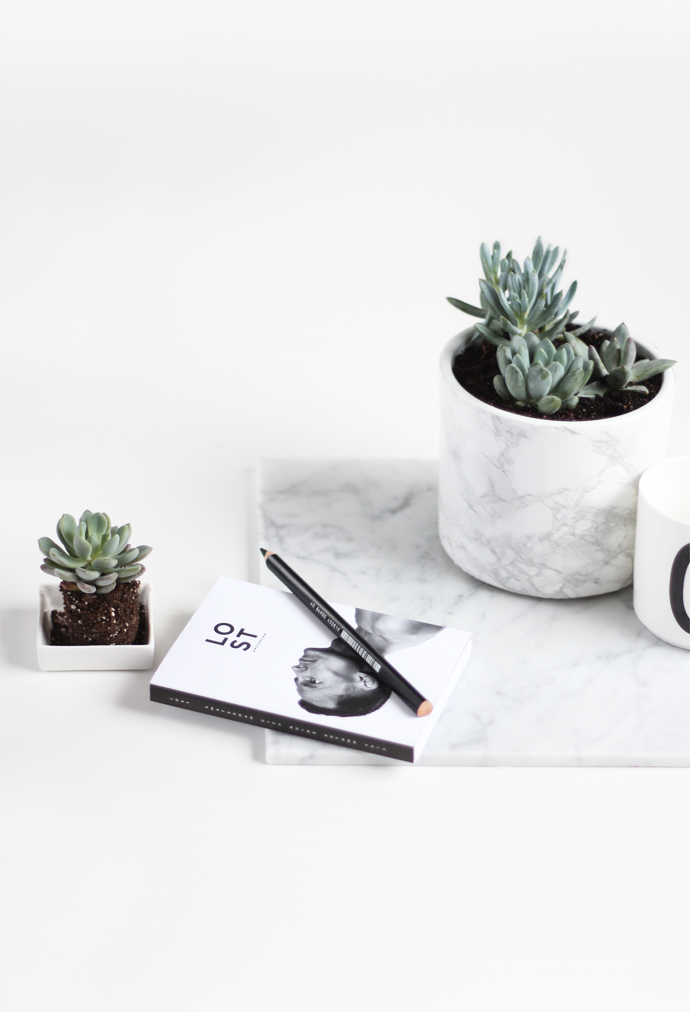 Double kitsch: marble and succulents. Once very popular but since the 90's a no-go. How is it that something that we regarded as kitsch for so many years, can feel so sophisticated now? Strange how trends come and go.
Here is a simple and on-a-budget DIY by My Dubio using leftover foil pieces: a marble pot which would look so amazing with a succulent!
DIY MINI HEXAGON MARBLE CLOCK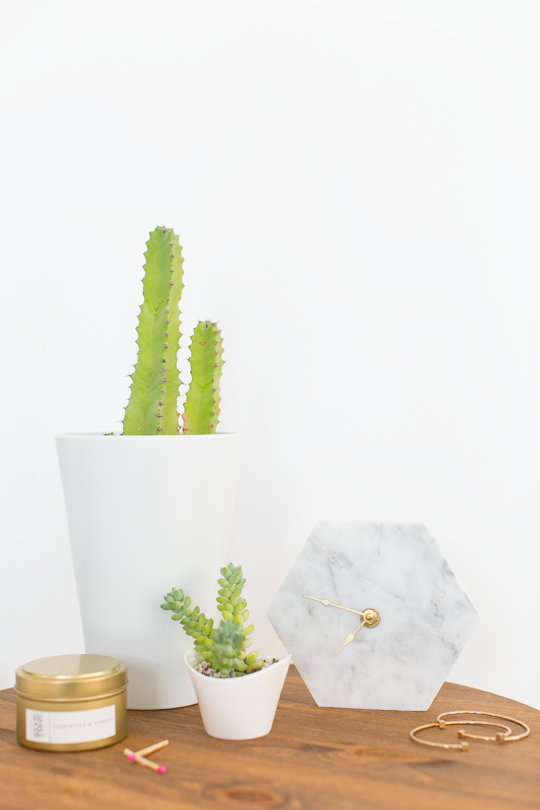 This beautiful decor element would look real good on just about everything: Shelves, desks, countertops, and even the dinner table. You can learn how to make your own mini table clock at Sugar and Cloth
MARBLE WALL CLOCK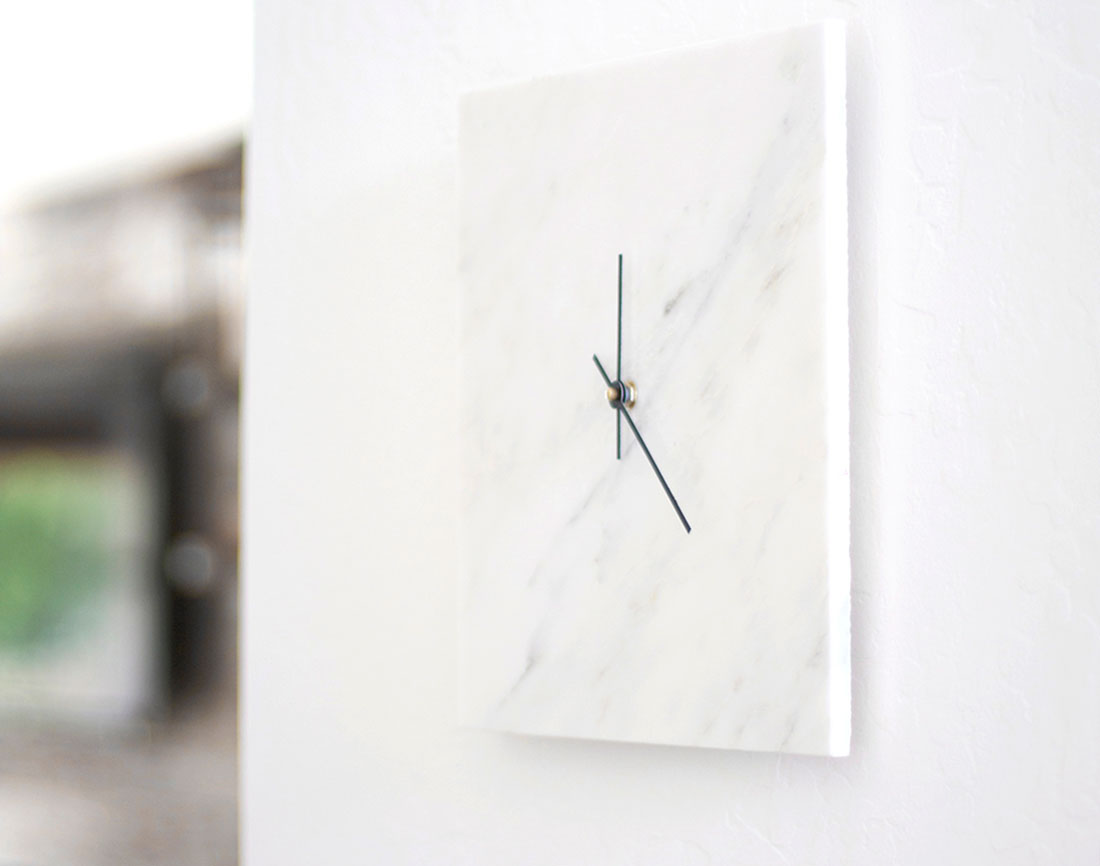 How to DIY a Chic Marble Wall Clock for Just $10? Check this tutorial by Brit + Co and find the answer!
DIY MARBLE DIPPED VESSELS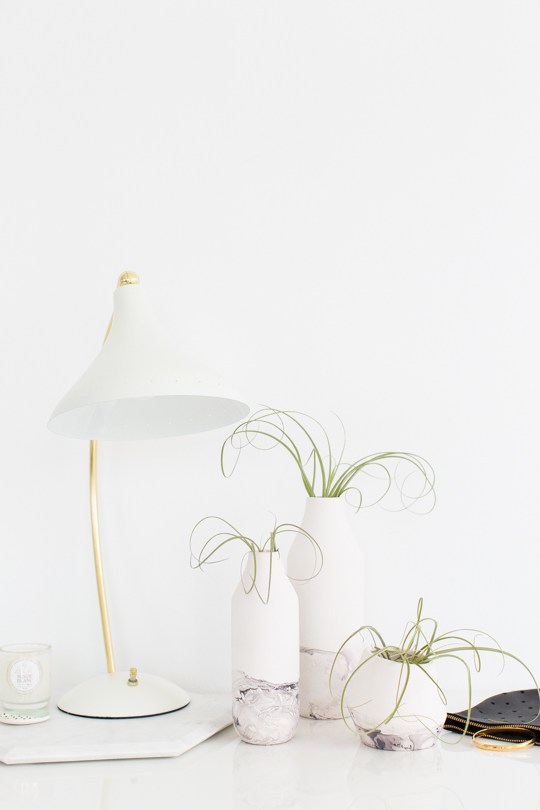 Another great DIY project by Sugar and Cloth is the marble dipped vessels which will add a trendy marble flair to your space. This is the budget friendly and simple project and the results are amazing. Try it at home!
SIMPLE DIY TABLE MARBLE LAMP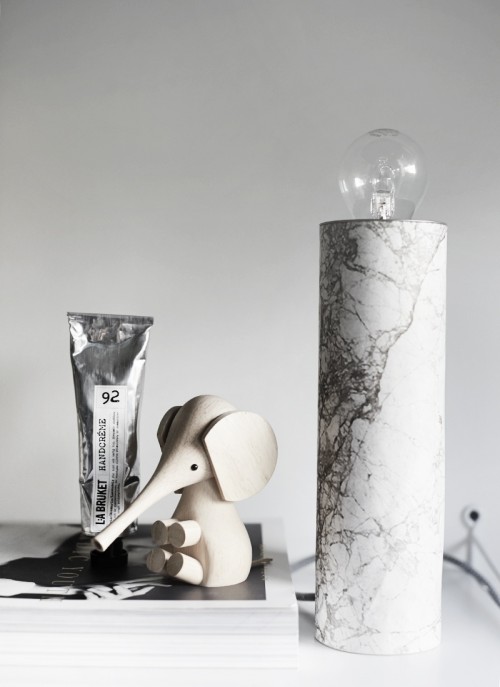 Isn't it just beautiful? to create this simple and stylish marble table lamp you'll need a long cardboard can or a posting tube with a lid, marble paper, glue, a drill, cord, a light bulb. For full instructions check the Shelterness tutorial.
DIY MARBLE CANDLES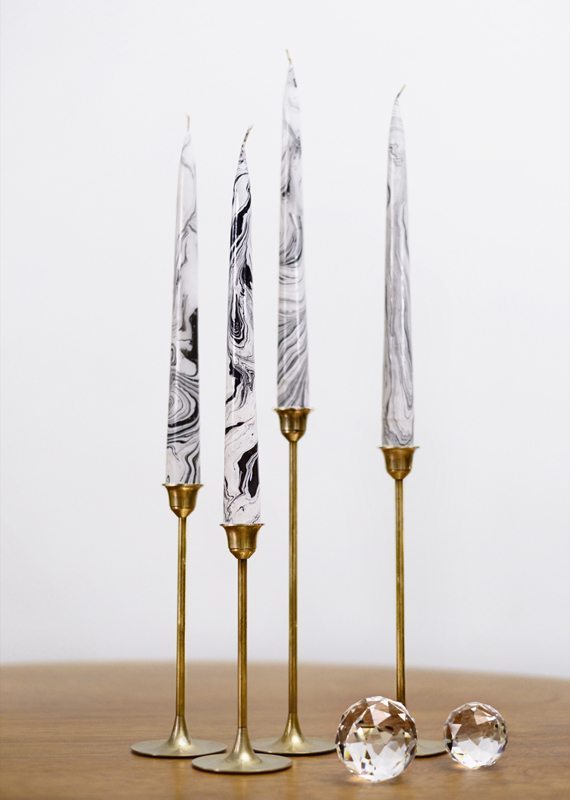 If you wish to add some personality to your space, an eye-catching pair of marbled candles with vintage candlesticks will add excitement to your dining room or mantle. The Etsy DIY blog will show you exactly how to do it.
DIY MARBLE MOON PHASE WALL HANGING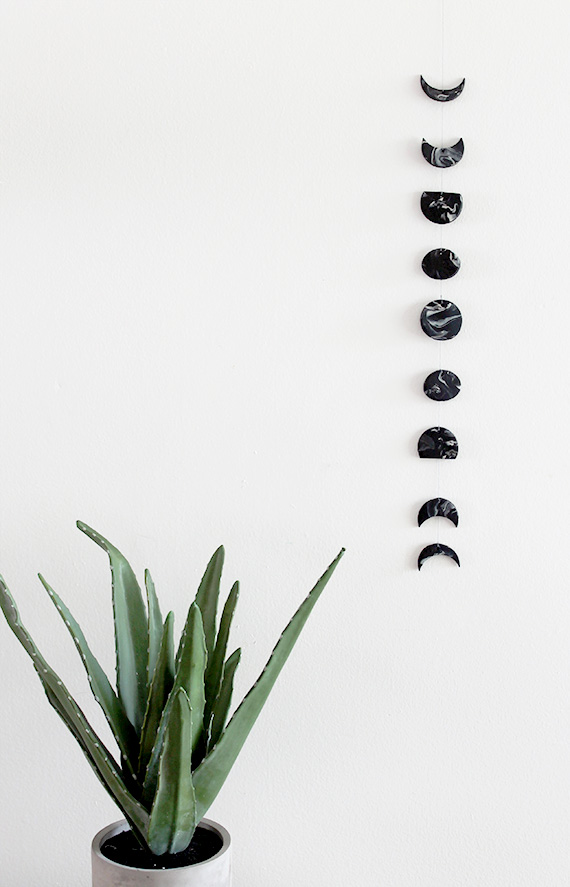 Moon phase has always been a unique and beautiful decor element both in art prints and wall hangings. Here is a great tutorial by Almost Makes Perfect for a DIY wall hanging that will add a Scandinavian chic to your space.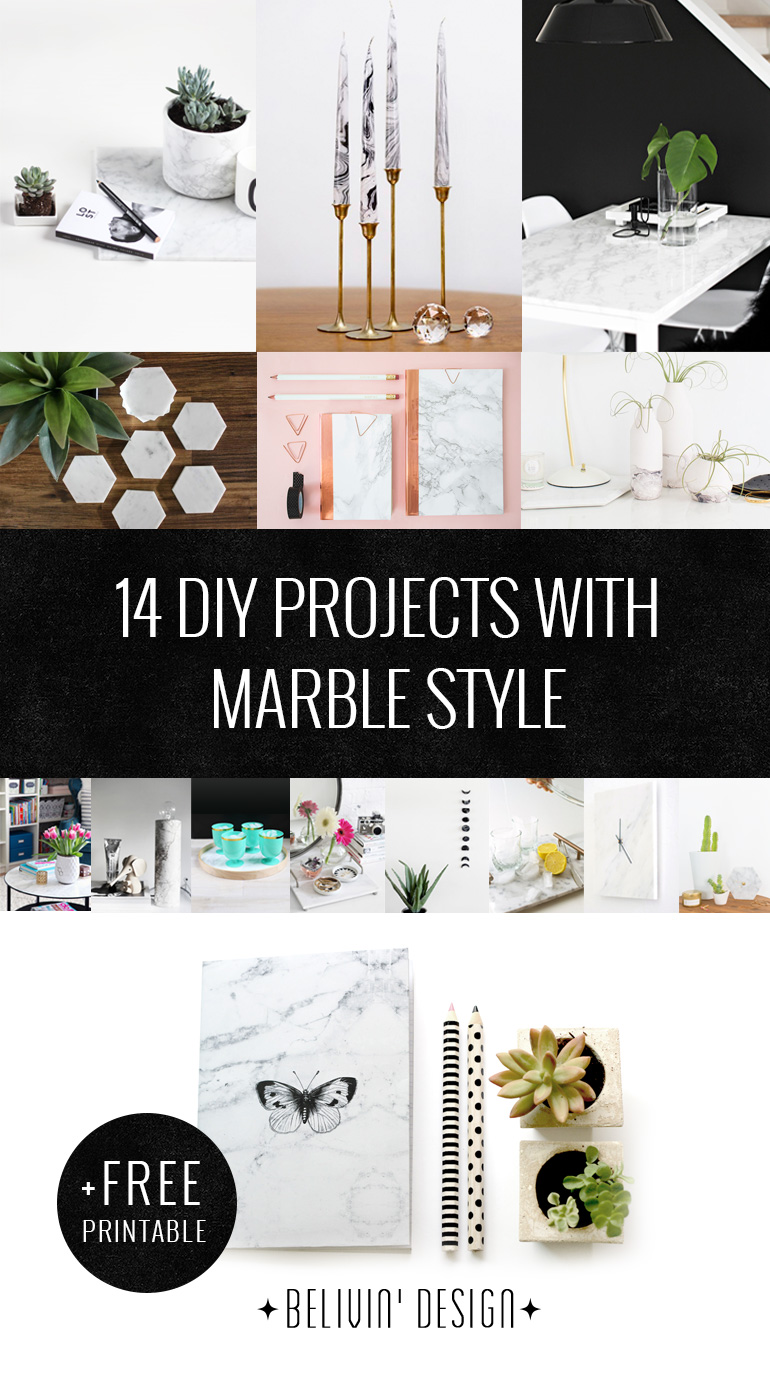 Marble Style Notebook Cover Printable – Download for FREE!